Andreas Lechner
Counterintuitive Typologies
TU Graz / Andreas Lechner Studio
Architectural Research Lecture Series TU Graz 2021/22, AKK Prof. D. Gethmann
20.01.2022 - 19:00
Andreas Lechner is Associate Professor at the Institute of Design and Building Typology at Graz University of Technology and founded his eponyomous design and research studio in 2009. Andreas studied at TU Graz and after formative study stays in Los Angeles, trained as an architect living in Berlin, Tokyo and Vienna. At TU Graz, he was assistant professor from 2007 to 2011. After obtaining a PhD in 2009 he was a visiting researcher at the Università Iuav di Venezia and the Royal Danish Academy of Fine Arts in Copenhagen and held lectures and visiting professorships in Copenhagen, Genoa, Hamburg and Istanbul. Andreas won first prize at Europan 10, participated in the second Istanbul Design Biennial 2014 and the 15th Venice Architecture Biennale 2016. His habilitation thesis was published as awards winning "Entwurf einer architektonischen Gebäudelehre" (Zurich 2018) based on his research and lectures at TU Graz since 2013 (nominated for the Teaching Excellence Award 2019). The second and revised german edition is now published together with its english version titled "Design Thinking - Blueprint for an Architecture of Typology" (both Zurich 2021). As scholarly author and reviewer he is also co-editor of the bilingual peer-review GAM Architecture Magazine. He is a member of the Graz historic town commission (ASVK) and a licensed and practicing architect.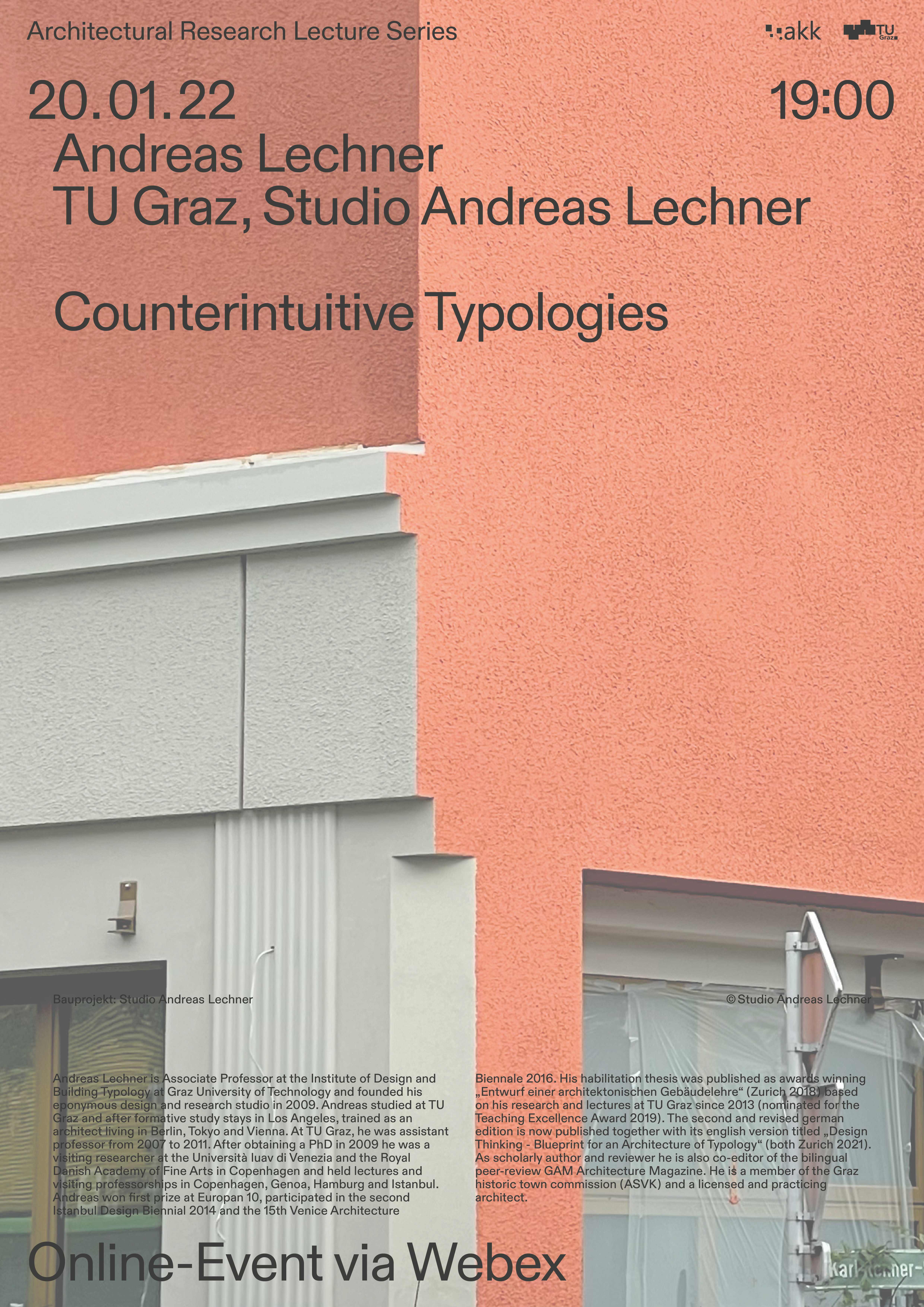 ARCHITEKT ANDREAS LECHNER

Attemsgasse 11
A-8010 Graz
Austria


M +43 664 1303255
UID ATU 75588801

Staatlich befugter und beeideter Ziviltechniker

© Studio Andreas Lechner. All rights reserved.
Unless otherwise stated, all materials on this website and the ideas incorporated herein, as an instrument of professional service, are protected by copyright and other intellectual property rights belonging to Andreas Lechner, its affiliates or its licensors and all such rights are hereby asserted and reserved. No part of this website may be copied, reproduced, republished, posted, transmitted or distributed in any way for commercial purposes. Any modification or use of the information contained on this website for any purpose not explicitly permitted without prior written consent is a violation of the author's intellectual property rights and is strictly prohibited.
Email ·
Instagram · Impressum