Katie Filek
Stadtbibliothek

Graz 2019
(Co-instructor Prof. Domenico Chizzoniti, Politecnico Milano)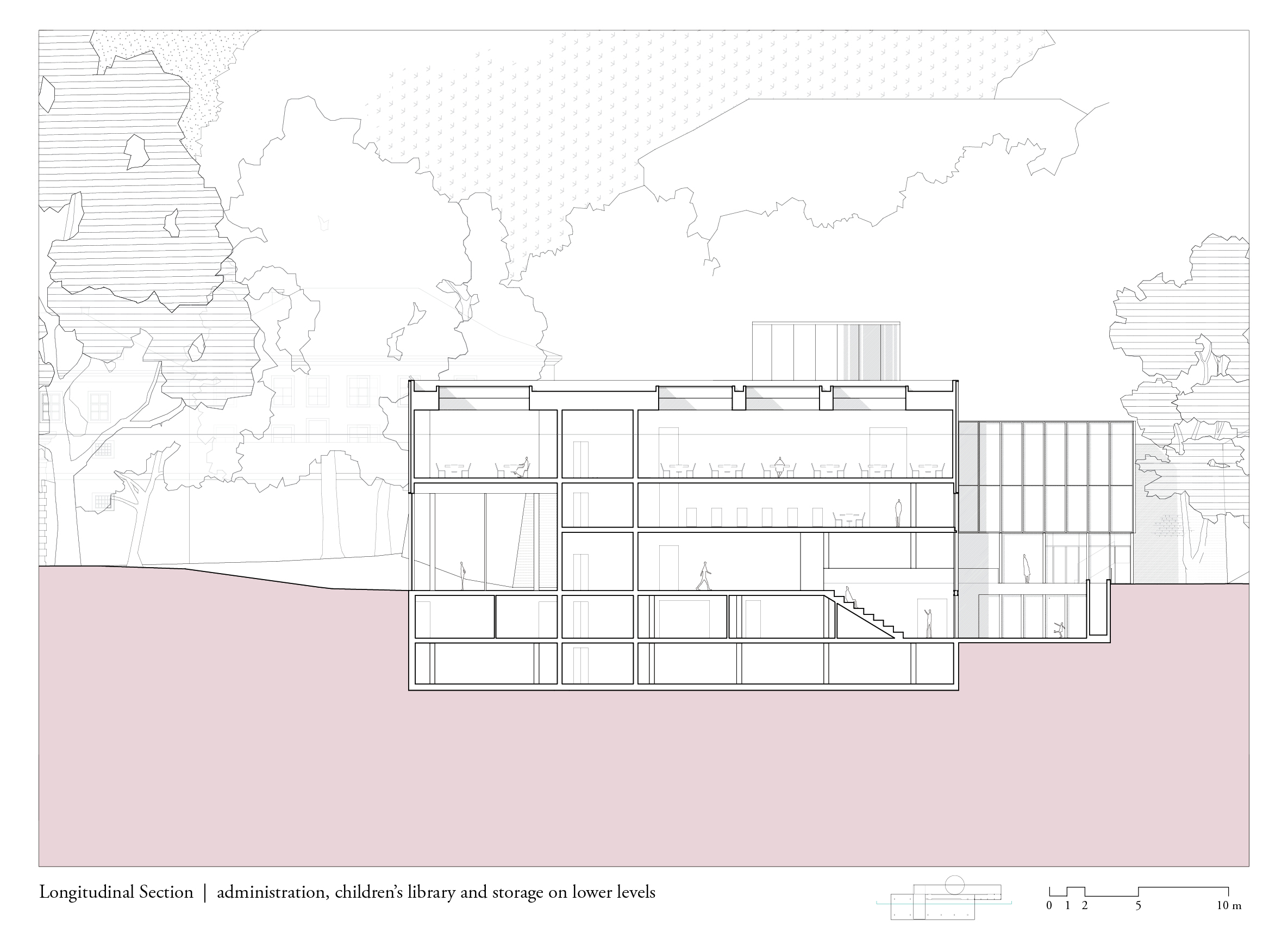 This thesis project is an investigation of the relationship between layered historic context an new intervention, played out within the design of a new public library for the city of Graz, Austria. Careful urban documentation and site analysis, considered composition, and a questioning of the twentieth century division between old and new act as the project's guiding principles, aided by trust in a designer's own acquired intuition. The proposed library sits at an edge of both the city's historic center and its main green space, the Stadtpark, on a site bordered by important built fragments of the city's past. A systematic documentation of pavilions spread throughout the park reveals a typologi- cal system, a language of materials and forms accrued over time from specific geographic, economic and cultural circumstances—together an expression of the park's historic meaning within the city, from military glacis to democratized green heart. The library learns from its context, responding to this taxonomy of reduced pavilion forms, while also asserting its own character and giving new meaning to the elements of its immediate site. A neglected fragment of the historic city wall is incorporated into the library's interior. A careful sequencing of interior spaces provides views of a historic city gate and access to an upper garden, and a cylindrical lantern both provides light to the library spaces below and becomes an urban marker. Based on a reading of the city and its typological elements of collective memory, the project offers a measured fragment to an existing urban system— one prepared to quietly gain collective meaning over time.
@counterintuitive_typologies #austria #graz #historiccity #urbananalysis #landscape #urbanmorphology #urbanelements #collectivememory #context #library #pavilion #composition #culture #public
Facebook album
ARCHITEKT ANDREAS LECHNER

Attemsgasse 11
A-8010 Graz
Austria


M +43 664 1303255
UID ATU 75588801

Staatlich befugter und beeideter Ziviltechniker

© Studio Andreas Lechner. All rights reserved.
Unless otherwise stated, all materials on this website and the ideas incorporated herein, as an instrument of professional service, are protected by copyright and other intellectual property rights belonging to Andreas Lechner, its affiliates or its licensors and all such rights are hereby asserted and reserved. No part of this website may be copied, reproduced, republished, posted, transmitted or distributed in any way for commercial purposes. Any modification or use of the information contained on this website for any purpose not explicitly permitted without prior written consent is a violation of the author's intellectual property rights and is strictly prohibited.
Email ·
Instagram · Impressum