Andreas Lechner
Thinking Design:
Blueprint for an Architecture of Typology
Park Books, Zürich 2021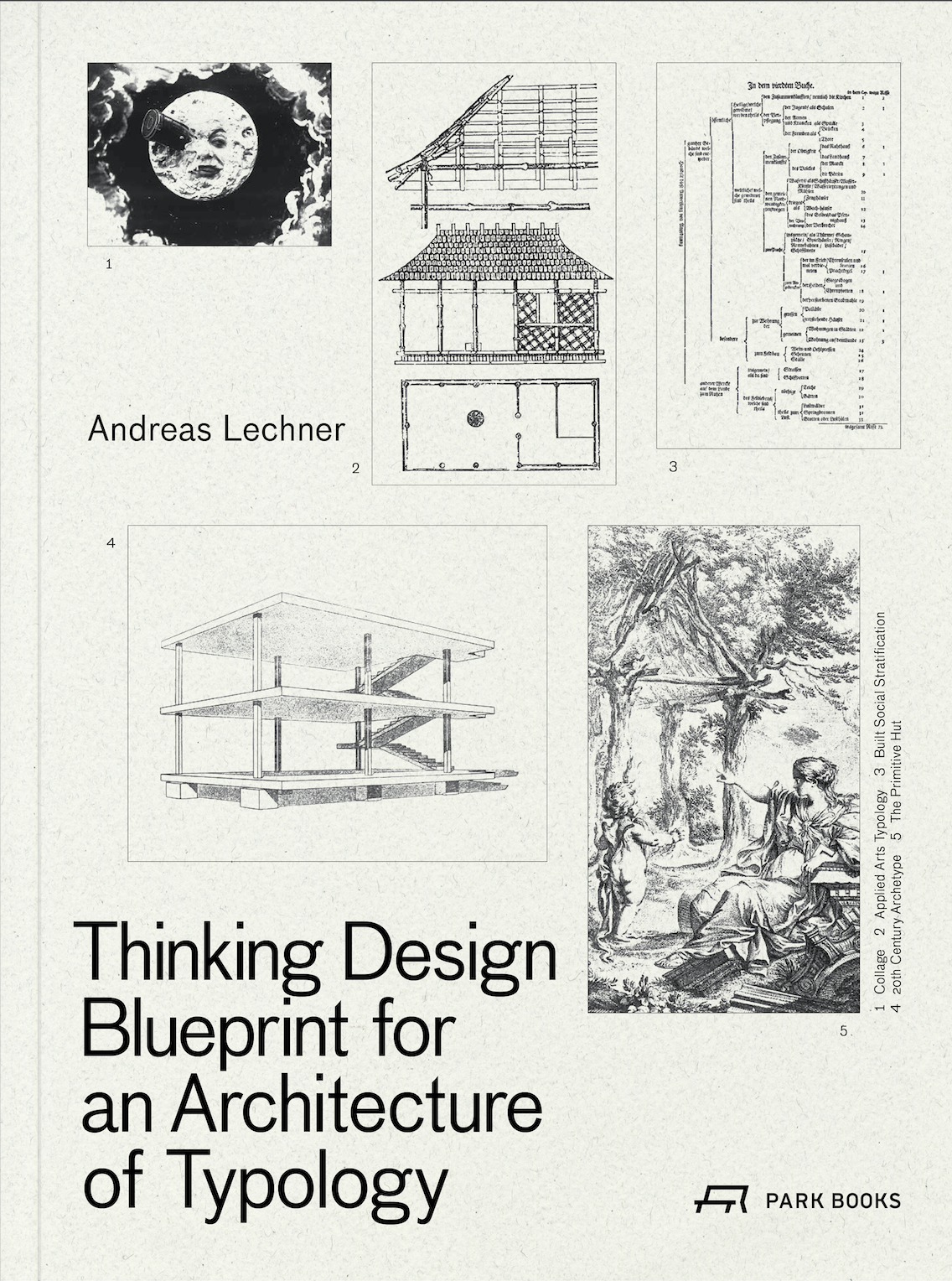 Reviewed by Cameron McEwan,
"Peripheral Monuments: Book Review of Thinking Design - Blueprint for an architecture of typology by Andreas Lechner", in:
Journal of Architecture and Urbanism
, Volume 46/1 (2022), 83-88.
"Lechner's work is compelling and stimulating. He draws on the analytical and typological processes associated with Aldo Rossi's (1966, 1982) reading of cities as a composition of monuments - permanent traces, and collective memory - but Lechner applies those approaches to interpret city edges, commercial vernacular, and the urban periphery. There is an identifiable allegiance to Rossi mixed with Venturi and Scott Brown (1972, 1991), and John Hejduk (1985) as reference points. What seems significant and admirable in Lechner's writing, projects, and teaching is that intellectual culture and creative intuitive approaches are kept in close proximity to the critical rational tradition … Thinking Design provides an important critical overview for theories and projects of typology and will offer a useful compendium for the student and teacher of architecture as well as the critical practitioner. Yet Thinking Design also offers an original theoretical reflection on the status of the urban periphery and opens questions about architecture and architectural design research as a practice of critical inquiry. In the face of the capitalist debris and the uneven space that is the hallmark of urban peripheries as a global condition, we might return to some of the 144 typologies that Lechner presents as inspiring examples; or study the striking suite of projects by students under Lechner's supervision, which are compiled in the appended booklet. Lechner offers inspiring reflections, strong examples, and useful models for what may become the peripheral monuments of tomorrow."
McEwan, C. (2022). Peripheral monuments: book review of Thinking Design: Blueprint for an Architecture of Typology by Andreas Lechner.
Journal of Architecture and Urbanism
,
46
(1), 83-88.
https://doi.org/10.3846/jau.2022.16904


︎︎︎Order at Park Books
However disparate the style or ethos, beneath architecture's pluralism lies a number of categorical typologies. In Thinking Design, Austrian architect Andreas Lechner has condensed his profound typological understanding into a single book. Divided into three chapters - Tectonics, Type, and Topos - Lechner's book reflects upon twelve fundamental typologies: theater, museum, library, state, office, recreation, religion, retail, factory, education, surveillance, and hospital. Encompassing a total of 144 carefully selected examples of classic designs and buildings, ranging across an epic sweep from antiquity to the present, the book not only explains the fundamentals of collective architectural knowledge but traces the interconnected reiterations that lie at the heart of architecture's transformative power. As such, Thinking Design outlines a new building theory rooted in the act of composition as an aesthetic determinant of architectural form. This emphasis on composition in the design process over the more commonplace aspects of function, purpose, or atmosphere makes it more than a mere planning manual. It reveals also the cultural dimension of architecture that gives it the ability to transcend not only use cycles but entire epochs. Each example is meticulously illustrated with a newly drawn elevation or axonometric projection, floor plan, and section, not only invigorating the underlying ideas but also making the book an ideal comparative compendium.
An enclosed booklet (32 pages, 19.5 x 28 cm, 58 b-w illustrations) features theses by twelve students of Graz University of Technology that further illustrate Andreas Lechner's approach in teaching and design.
1st edition, Park Books: Zurich 2021,
Hardback, 460 pages, 444 b-w illustrations and plans
23 x 31 cm
ISBN 978-3-03860-246-0
ARCHITEKT ANDREAS LECHNER

Attemsgasse 11
A-8010 Graz
Austria


M +43 664 1303255
UID ATU 75588801

Staatlich befugter und beeideter Ziviltechniker

© Studio Andreas Lechner. All rights reserved.
Unless otherwise stated, all materials on this website and the ideas incorporated herein, as an instrument of professional service, are protected by copyright and other intellectual property rights belonging to Andreas Lechner, its affiliates or its licensors and all such rights are hereby asserted and reserved. No part of this website may be copied, reproduced, republished, posted, transmitted or distributed in any way for commercial purposes. Any modification or use of the information contained on this website for any purpose not explicitly permitted without prior written consent is a violation of the author's intellectual property rights and is strictly prohibited.
Email ·
Instagram · Impressum